Visit 2010, Biofootwear Company has created its very first slipper 100% bio-sourced with bamboo fibre.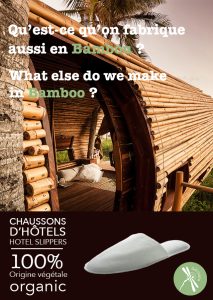 But why have we chosen to use this material?
Bamboo is better at absorbing CO2 than a deciduous tree.

It produces 30% ofoxygen on average.

This is a plant that does not require no fertiliser or chemical products for its culture.

The plantself-healing every 2 or 3 years.

Bamboo cultivation is fast.